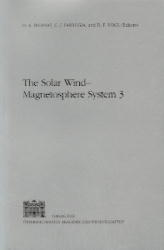 Das vorliegende Buch enthält editierte Versionen von Beiträgen, die am Workshop "The Solar Wind- Magnetosphere System" im September 1998 in Graz prä- sentiert wurden. Diese Tagung ist die dritte, die auf die- sem Arbeitsgebiet in Graz gehalten wurde, und hat ihre Wurzeln in den traditionell guten Kontakten and der intensiven Zusammenarbeit zwischen dem Institut für Weltraumforschung der Österreichischen Akademie der Wissenschaften und verschiedenen Instituten in Rußland, die seit mehr als zehn Jahren aufgebaut wurden. Diese Zusammenarbeit beinhaltet Forschung auf verschiedenen Gebieten der Plasmaphysik sowie deren Anwendung auf Weltraumphysik. Innerhalb dieser Zeit haben sich viele andere Plasma- und Weltraumphysikgruppen dieser Zusammenarbeit angeschlossen und Konferenzen auf vielen Gebieten der Weltraumforschung wurden in Graz unter der Teilnahme von Physikern aus allen Teilen der Welt abgehalten.
Das Hauptgebiet der Vorträge war die Verschmelzung magnetischer Feldlinien, jedoch gab es auch Beiträge zu folgenden Themen: Klassische statistische Mechanik, Ionosphärenphysik, Phänomäne auf anderen Planeten, Kometen, sowie Wellenphänomäne. Publikationen auf all diesen Gebieten finden in diesem Buch ihren Niederschlag.
…
This volume contains edited versions of papers presen- ted on the "Solar Wind-Magnetosphere System" Workshop in September 1998 in Graz. This meeting is the third on this topic to be held in Graz, and has its roots in the traditional good contacts and intensive collaboration between the Space Research Institute of the Austrian Academy of Sciences and various Russian institutes that have been built up over more that ten years. This collaboration involve research in several fields of plasmabehaviour and their applications to space physics.
Within this time, many other plasma and space physics groups have entered into the spirit of collaboration, and conferences in many topics of space research have been held in the city of Graz,attracting the interest of physicists from all over the world.
The focal point of the talks was magnetic reconnection, but a diverse timetable permitted contributions dealing with classical statistical mechanics, solar physics, the interplanetary medium, the Earth's magnetosheath and magnetosphere, ionospheric physics, phenomena on other planets, comets, and wave phenomena.