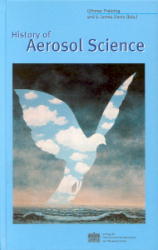 Das Buch History of Aerosol Science enthält die ausgearbeiteten Vorträge (39 Beiträge von Autoren aus 16 Ländern) des gleichnamigen internationalen Symposiums,welches von der Kommission für Reinhaltung der Luft der Österreichischen Akademie der Wissenschaften in Wien vom 31.August bis 2.September 1999 veranstaltet wurde.Unter Aerosolen versteht man in der Wissenschaft die Suspension von festen und/oder flüssigen Teilchen in Gasen, z.B.Rauch, Dunst, Staub, Wolken usw.
Die Aerosolwissenschaft reicht bis in die Frühzeit der Menschheit zurück; seit der Mensch Feuer benützt, produziert er Rauch und Ruß und inhaliert diese mit entsprechenden gesundheitlichen Folgen. Das Wort Aerosol aber wurde erst nach dem 1.Ersten Weltkrieg eingeführt, und die allgemeine Verwendung begann ab Mitte der 60er Jahre.Die Aerosolwissenschaft, die vor 50 Jahren nur von wenigen Forschern unter anderen Überschriften betrieben wurde, hat sich außerordentlich rasant entwickelt,und heute sind weltweit viele tausend Wissenschaftler in der Aerosolforschung tätig.Um den verschiedenen Aspekten gerecht zu werden,wurde das Buch in drei Abschnitte gegliedert:
1) Aerosole in der Menschheitsgeschichte
2) Biographien bedeutender Wissenschaftler,die sich mit Aerosolen beschäftigten
3) Aufbau nationaler Vereinigungen von Aerosolwissenschaftlern während der letzten dreißig Jahre.
…
The book History of Aerosol Science contains the proceedings of an international meeting held in Vienna from August 31 through September 2,1999, organized by the Clean Air Commission of the Austrian Academy of Sciences.The term aerosol means solid and /or liquid particles suspended in gases e.g.smoke,haze,dust,clouds etc. Aerosol science can be traced back to ancient times when man started to use fire.The inhaled smoke and soot produced causes health hazards.The word aerosol was first coined after World War I,and it has been generally used since the middle of the 1960s. Aerosol science,which interested only a few scientists 50 years ago,is now a fast-progressing field. Today thousands of scientists are working in this field all over the world.