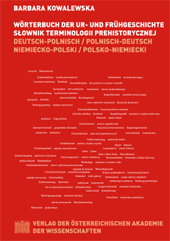 Barbara  

Kowalewska


ist freischaffende Übersetzerin in Wien




Das vorliegende Wörterbuch der Ur- und Frühgeschichte Deutsch-Polnisch / Polnisch-Deutsch enthält etwa 12.000 Stichwörter aus der mitteleuropäischen Ur- und Frühgeschichte, vom Paläolithikum bis Frühmittelalter, bei besonderer Berücksichtigung der Ur- und Frühgeschichte Polens, Österreichs und Deutschlands. Den Schwerpunkt des Wörterbuches bildet die Terminologie aus den wichtigsten Sachgebieten der Ur- und Frühgeschichte (Steinartefakte, Keramikformen und –verzierung, Tracht und Schmuck, Gebrauchsgegenstände, Werkzeuge, Waffen, Siedlungswesen und Bauformen, Bestattungssitten und Grabformen, prähistorische Kunst), aus der allgemeinen Archäologie und aus der Methodologie. Einbezogen wurden auch Begriffe aus den fachverwandten Sachgebieten, wie Anthropologie, Botanik, Zoologie, Geologie und Mineralogie. Im Anhang des Wörterbuches befinden sich Verzeichnisse ausgewählter archäologischen Kulturen und Kulturgruppen, ethnischer Namen, ausgewählter Pflanzen- und Tierarten, anthropologischer Begriffe und die Typenlisten paläolithischer Steingeräte.
…
This Dictionary of Prehistory and Ancient History (German-Polish / Polish-German) contains approximately 12,000 entries relating to Central European prehistorical and ancient times, from the Palaeolithic Age to the early Middle Ages, with special consideration of these periods in Poland, Austria and Germany. The focal point of this dictionary is formed around the terminology dealing with the most important subjects of pre-historical and ancient times: stone artefacts, pottery moulds and decoration, costumes and ornaments of the period, common objects, tools and weapons, the nature of early settlements and building styles, burial customs and grave patterns, prehistoric art, as well as general subjects related to archaeology and methodologies. Technical terms from the related fields of anthropology, botany, zoology, geology and mineralogy are also included . The appendix contains selected references to archaeological cultures and culture-groups, ethnic names, specific plants and animals species, anthropological terms and the type lists of the palaeolithic stone artifacts.