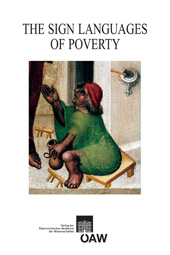 Gerhard 

JARITZ


ist Mitarbeiter am Institut für Realienkunde des Mittelalters und der frühen Neuzeit der Österreichischen Akademie der Wissenschaften und Professor of Medieval Studies an der Central European University, Budapest




Medieval and early modern sources dealt regularly with the problem of "poverty". The term poverty often referred to members of widely divergent groups in society. Various groups of objects, gestures, behaviour, and other cultural aspects were drawn on to express and characterise the "poverties" being described. Independent of the status of the persons or groups of people being described, those characteristics could, on one hand, be identical to each other or based on similar patterns of argumentation; on the other hand, they also could be very different. Such questions were the topic of an international workshop held in the autumn of 2005 at the Institute for the Material Culture of the Middle Ages and the Early Modern Period of the Austrian Academy of Sciences. Scholars from nine countries met to discuss the importance of the medieval "sign languages of poverty", as well as patterns and differences therein, analysing them comparatively and critically. The interdisciplinary approach offered new insights with regard to these significant questions about medieval material life and its depiction in medieval sources. The publication contains the results of this meeting.
…
Mittelalterliche und frühneuzeitliche Quellen behandeln regelmäßig das Problem der "Armut". Diese "Armut" bezog sich häufig auf die unterschiedlichsten sozialen Gruppen. Verschiedene materielle Objekte und Objektgruppen, Gesten, Verhaltensweisen und andere Aspekte der Kultur wurden herangezogen, um die angesprochenen Typen von "Armut" zu vermitteln und zu charakterisieren. Unabhängig vom behandelten Personenkreis zeigten sich derartige Charakterisierungen einerseits identisch oder auf ähnlichen Argumentationsmustern basierend; andererseits konnten sie sehr verschieden sein.