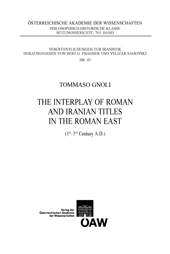 Tommaso 

Gnoli


ist Professor für Römische Geschichte bei der Fakultät der Bewahrung des Kulturguts, Universität Bologna in Ravenna




Dieser Essay behandelt ein klassisches Thema für die Geschichte des Altertums: die Beziehungen zwischen Rom und dem Parther- bzw. Sasanidenreich. Am originellsten steht hier die Perspektive im Vordergrund, worunter diese Beziehungen in Betracht genommen werden: Es wird von der Anlayse von Titeln ausgegangen, die anscheinend in ungeeigneten Kontexten auf beiden Ufern des Flusses Euphrat verwendet wurden. Ein echt römischer Begriff, der von consularitas, griech. hypateia, wird auf der einen Seite als verborgene Zuschreibung zuerst den Armenischen Königen und später auch den Palmyrenischen Häuptern analysiert. Der echt iranische Titel ´König der Könige` wird hier auch als Odainath von Palmyra und seinem Sohn Vaballath ungeeignet zugeteilter Titel untersucht, und außerdem wird eine Analyse von einem anderen echt iranischen einem hochgeachteten palmyrenischen Manne, Vorod, zugeteilten Titel, argapetes, vorgestellt. Der Essay wird mit einer auf den letzten Stand gebrachten Diskussion über den iranischen Titel pasgriba, ´Thronfolger´ beendet, der für die königlichen Familien von Edessa und Hatra bezeugt wird, dessen Bedeutung anderswo ausführlich behandelt wurde. Die genannten Themen beweisen wie stark die wechselseitigen Beziehungen zwischen den zwei Ufern des Flusses Euphrat waren, Beziehungen, die nicht nur kulturell im allgemeinen betrachtet werden können, sondern auch und mehr korrekt als institutionell und politisch hervortreten.
…
This essay deals with a classical theme in ancient history: the relationships between Rome and the Parthian and Sasanian worlds. What is original is the perspective from which these relationships are investigated, i.e. starting from the analysis of titles apparently used in a non-fitting context on both sides of the border. A very Roman concept, the consularitas, Greek hypateia, is analysed on the one hand in its explicit attribution to the Edessean sovereigns, on the other hand in its implicit attribution to the kings of Armenia and afterwards to the ´Chiefs´ of Palmyra. The very Iranian title of ´King of Kings´ is also investigated here as unsuitably attributed to Odainath of Palmyra and his son Vaballath, together with an analysis of the very Iranian title argabetes of a very powerful Palmyrenean man, Vorod. This essay is completed by a documentary update on another Iranian title, pasgriba, ´heir to the throne, crownprince´, attested in the royal families of Edessa and Hatra, whose meaning has been deeply investigated elsewhere. The above mentioned subjects evidently show how tight the bonds linking the two sides of the river Euphrates used to be, bonds that are not only cultural in a general way, but more concretely also institutional and political.