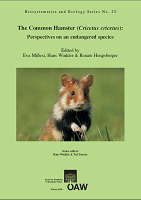 Eva 

Millesi


ist Professorin am Department für Verhaltensbiologie an der Universität Wien




Die Biologie des Feldhamsters weist einige hochinteressante Aspekte auf. Obwohl die Tiere Winterschlaf halten, können bis zu drei Würfe pro Jahr großgezogen werden und unter günstigen Bedingungen werden die Hamster bereits im Jahr ihrer Geburt geschlechtsreif. Das "hamstern" von Vorräten für den Winter ermöglicht ihnen, den Großteil der Saison der Fortpflanzung zu widmen. Der Feldhamster gilt als klassischer Kulturfolger und konnte über Jahrhunderte Ackerbauregionen in weiten Teilen Europas besiedeln. In den letzten Jahrzehnten hat der Verlust geeigneter Lebensräume und die Intensivierung der Landwirtschaft diese Tierart in einigen Ländern an den Rand des Aussterbens gebracht. Sinnvolle Schutzmaßnahmen setzen eine genaue Kenntnis der Lebensweise und ein "hamsterfreundliches" Management in der Landwirtschaft voraus. In diesem Band sind die Ergebnisse der 13. Tagung des Internationalen Arbeitskreises Feldhamsterschutz zusammengefasst. Studien über Raubdruck, Populationsdichten, Bauarchitektur, Lebenserwartung und Fortpflanzungsaktivität beleuchten unterschiedliche Facetten im Leben dieser Tiere und unterstreichen die Anpassungsfähigkeit des Feldhamsters an unterschiedliche Umweltbedingungen. Weiters werden Schutzprogramme vorgestellt und diskutiert. In speziellen Zuchtprogrammen können durch ausgewählte Licht-Dunkel-Regimes die Reproduktion optimiert und damit Wiederansiedlungsprojekte unterstützt werden. Generell soll der Band dazu beitragen, unser Wissen über diese bedrohte Tierart zu erweitern und weitere Schutzmaßnahmen zu initiieren.
…
The Common Hamster is a fascinating species that differs from other hibernating small mammals in several aspects. Females have up to three litters per season and under favourable conditions both males and females are sexually mature in their first year. The ability to cache food changes the need for fattening prior to hibernation and consequently can alter the pattern of reproductive activity. The Common Hamster has lived in agricultural areas in close association with humans for centuries. During the last few decades, the loss of suitable habitats and modern agriculture technology have brought the species close to extinction in many areas. It has thus been listed as a highly threatened species in several European countries. Preventative measures require detailed knowledge about the biology of the species and a "hamster-friendly" management scheme in agricultural areas. In this volume, contributions made at the 13th Meeting of the International Hamster Workgroup have been summarized. Studies investigating burrow architecture, population dynamics, predation pressure, life span and reproductive activity underline the environmental flexibility of the species. The results of conservation programs are presented and discussed. Reports of breeding regimes with selected light-dark-cycles that can be used to optimize reproductive output and may benefit reintroduction projects have also been included. Generally the presented results should help broaden our knowledge about the Common Hamster and promote international networks to plan, implement, coordinate and evaluate management programs.