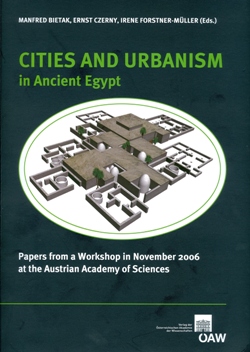 Manfred 

BIETAK


ist emer. Professor für Ägyptologie an der Uni Wien

Ernst 

CZERNY


ist Mitarbeiter beim Spezialforschungsprogramm SCIEM 2000

Irene 

FORSTNER-MÜLLER


ist Leiterin des Österreichischen Archäologischen Instituts in Kairo




The present volume is a collection of papers given at a workshop on urban development in Ancient Egypt which was held at the AAS in November 2006. The articles cover a wide variety of themes within the frame of this general topic, and aspects of urban development are dealt with from very different points of view. The structure of specific building types (F. Doyen, S. Hendrickx), as well as the spacial (E. Czerny, I. Forstner-Müller, M. Lehner) and social (M. Bietak, K. Spence) organisation of settlements are dealt with, including questions of settlement geography (A. Graham). Specific problems are given consideration, such as entrance protection in Nubian fortresses (C. Vogel) or the question of external supply versus self-sufficiency at a remote place like Zawiyet Umm el-Rakham on the Libyan border (S. Snape). One can find both the analysis of the diachronic development of a specific site throughout history (C. v. Pilgrim) and a general study on urbanism during a given period, Graeco-Roman Egypt (W. Müller). J. Kahl's analysis of texts shows that cities in Ancient Egypt were allegorized as females with human properties. Within a chronological frame from the Old Kingdom through the Roman Empire, many different aspects of sites such as Tell el-Dabca, Giza, Kahun, Amarna, Karnak, El-Kab, Elephantine, Aswan and Zawiyet Umm el-Rakham are discussed.
…
Das vorliegende Buch enthält Artikel, die auf Vorträgen eines Kongresses zur Stadtentwicklung im Alten Ägypten beruhen, der im November 2006 an der ÖAW stattgefunden hat. Innerhalb dieses vorgegebenen Rahmens umspannen die Artikel ein thematisch und chronologisch sehr weites Feld. Von ganz unterschiedlichen Seiten werden verschiedene Aspekte der Stadtentwicklung beleuchtet. Die Struktur einzelner Gebäudetypen (F. Doyen, S. Hendrickx) sowie die räumliche (E. Czerny, I. Forstner-Müller, M. Lehner) und soziale (M. Bietak, K. Spence) Organisation von Siedlungen wird ebenso behandelt, wie etwa Fragen der Siedlungsgeographie (A. Graham). Den Toranlagen der nubischen Festungen ist ein eigener Beitrag gewidmet (C. Vogel), ebenso der Frage der Versorgung eines so entlegenen Militärstützpunktes wie Zawiyet Umm el-Rakham an der libyschen Grenze (S. Snape). Neben der diachronen Darstellung der Entwicklung eines bestimmten Platzes (C. v. Pilgrim) stehen Erörterungen zum Städtebau einer bestimmten Epoche, des griechisch-römischen Ägypten (W. Müller). Dazu kommen die philologischen Betrachtungen J. Kahls zur "Anthropologie der Stadt". Innerhalb eines chronologischen Rahmens von der Pyramidenzeit des Alten Reiches bis zur römischen Kaiserzeit werden mannigfaltige Aspekte zur Stadtentwicklung u.a. von Tell el-Dabca, Giza, Kahun, Amarna, Karnak, El-Kab, Elephantine, Assuan und Zawiyet Umm el-Rakham behandelt.