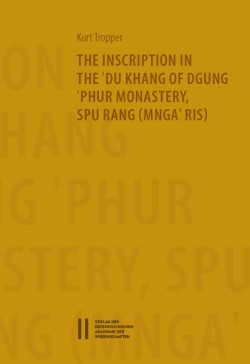 Kurt  

Tropper


Dr. phil. (2001) in Tibetologie und Buddhismuskunde, ist wissenschaftlicher Mitarbeiter am Institut für Kultur- und Geistesgeschichte Asiens der Österreichischen Akademie der Wissenschaften.




Die vorliegende Studie bietet die Edition und annotierte Übersetzung einer historischen Inschrift in der Versammlungshalle des Klosters Dgung 'phur in Spu rang (Mnga' ris, Westtibet). Die Inschrift behandelt religiöse und politische Ereignisse in der Geschichte Westtibets bis zum Anfang des 17. Jahrhunderts. Der einleitende Teil der Arbeit enthält die Beschreibung der allgemeinen Charakteristika der Inschrift, die Zusammenfassung ihres Inhalts sowie Überlegungen zu ihrer Datierung und dem in der Inschrift als "Gründer" von Dgung 'phur bezeichneten Mgon po skyabs.

Gedruckt mit Unterstützung des Fonds zur Förderung der wissenschaftlichen Forschung (FWF).



…
This study provides the edition and annotated translation of a historical inscription in the assembly hall of Dgung 'phur Monastery in Spu rang (Mnga' ris, Western Tibet). The inscription deals with religious and political events in the history of Western Tibet up to the beginning of the 17th century. The introductory part of the study includes a description of the inscription's general characteristics, a summary of its contents, an enquiry into its date and a discussion of the magistrate Mgon po skyabs, whom the inscription identifies as the "founder" of Dgung 'phur.

Printed with the support of the Austrian Science Fund (FWF).