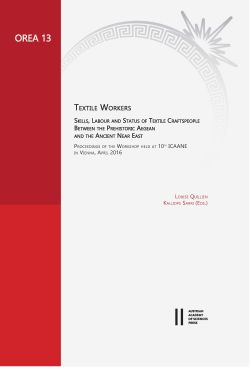 Louise 

QUILLIEN


is Researcher at the Centre National de la Recherche Scientifique (CNRS), France

Kalliope 

SARRI


is Guest Researcher at the Centre for Textile Research, University of Copenhagen




Studies on ancient textiles currently know a considerable growth. This volume contributes to the field, focusing on craftmanship. By surveying various cultures of the Ancient Near East and the Aegean, the compiled articles offer an overview of textile workers in action from the Stone Age to Late Antiquity. Combining various approaches such as archaeology, text studies, and experimentation, the contributions explore the social status, gender, age, and working conditions of the textile workers. Moreover, they investigate their intellectual capability, through a study of the acquisition, performance and transmission of skills. This collective work aims at opening a new perspective in the field of textile studies, in particular in the history of textile crafts in ancient societies.
…
Der vorliegende Band ist der antiken Textilforschung aus so unterschiedlichen Blickwinkeln wie Archäologie, Schriftquellen oder Experimentalstudien gewidmet und bietet durch die Untersuchung verschiedener Kulturen des Alten Orients und der Ägäis einen Einblick in die Tätigkeit von Textilarbeiter*innen von der Steinzeit bis zur Spätantike. Die Beiträge untersuchen den sozialen Status, das Geschlecht, das Alter und die Arbeitsbedingungen der Textilarbeiter*innen. Darüber hinaus beschäftigen sie sich mit deren intellektuellen Möglichkeiten, indem sie den Erwerb, die Durchführung und die Weitergabe von Fertigkeiten untersuchen. Diese Publikation beleuchtet somit neue Aspekte im Bereich der Textilforschung, insbesondere in der Geschichte des Textilhandwerks in antiken Gesellschaften.