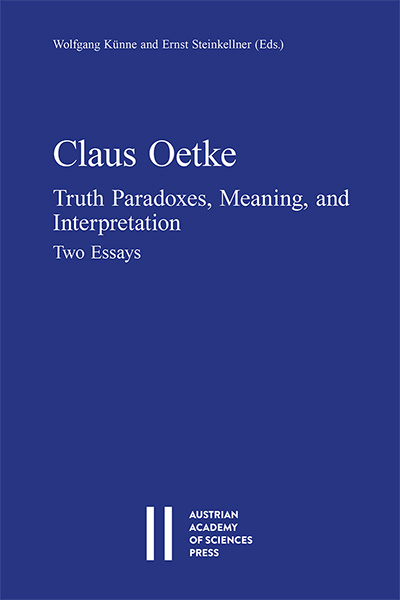 Wolfgang 

Künne


is Professor Emeritus at the University of Hamburg, full member of the Göttingen Academy of Sciences and the Academia Europea

Ernst 

Steinkeller


is Professor Emeritus at the University of Vienna, full member of the Austrian Academy of Sciences




Die beiden Aufsätze in diesem Buch haben ein gemeinsames philosophisches Anliegen. Während der erste Aufsatz einem Problem der systematischen Philosophie gewidmet ist, geht es im zweiten vor allem um die Interpretation einer spezifischen Fragestellung, die in einer bestimmten indischen philosophischen Tradition artikuliert wird. Im ersten Aufsatz konzentriert sich Oetke auf einen Fragenkomplex, der die Philosophie beschäftigt, seit ein Kreter behauptete, kein Kreter sage die Wahrheit. Da die Diskussion über die Familie der Wahrheitsparadoxa in der Logik und der analytischen Philosophie des 20. Jahrhunderts sehr intensiv geführt wurde, hätte man keine grundlegend neuen Einsichten in den Ursprung und die Reichweite dieser Paradoxa erwartet, und doch ist es genau das, was dieser Aufsatz bietet, indem er die Notwendigkeit betont, verschiedene Arten von Bedeutung zu unterscheiden. Der zweite Aufsatz befasst sich mit Fragen der Hermeneutik klassischer Texte. Ausgangspunkt ist Oetkes abschließender (unveröffentlichter) Kommentar zu einer Reihe von Artikeln im Journal of Indian Philosophy, die sich mit der Interpretation des sadvitīyaprayoga ("Beweisformulierung, die ein Gegenstück nach sich zieht") beschäftigen. Oetke verallgemeinert den Punkt seiner kritischen Beobachtungen, indem er die Relevanz der Anerkennung verschiedener Arten von Bedeutung und Interpretation in der Forschungsmethodik nicht nur in der Geschichte der indischen Philosophie aufzeigt. Sein Aufsatz ist ein wesentlicher Beitrag zur zeitgenössischen Literatur zur Methodologie in der Geschichte der Philosophie im Allgemeinen.
…