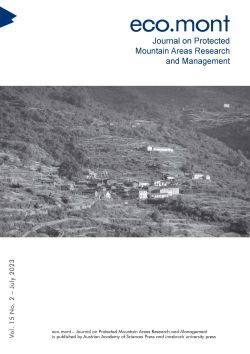 Valerie 

Braun


is Managing Editor of eco.mont and Project Manager of several projects at the Institute for Interdisciplinary Mountain Research at the Austrian Academy of Sciences (ÖAW)

Margreth 

Keiler


is Director of the Institute for Interdisciplinary Mountain Research at the Austrian Academy of Sciences (ÖAW)

Günter 

Köck


is Director of the National Research Programmes at the Austrian Academy of Sciences (ÖAW)




ISSN 2073-106X Print Edition
ISSN 2073-1558 Online Edition

ISBN 978-3-7001-9441-5 Online Edition
Journal on Protected Mountain Areas Research and Management 15/2 
06/2023  online edition
Die print-Edition erscheint in der innsbruck university press
License:
This article is licensed under a Creative Commons Attribution License:
CC BY-NC-ND 4.0
"eco.mont – Journal of Protected Mountain Areas Research and Management" was founded as a joint initiative of the Alpine Network of Protected Areas (ALPARC), the International Scientific Committee on Research in the Alps (ISCAR), the Austrian Academy of Sciences and the University of Innsbruck. "eco.mont" offers a platform specifically for scientists and practitioners working in and on protected mountain areas in Europe and overseas. Target audiences of the journal are scientists from all related disciplines, managers of protected areas and an interested public including practitioners, visitors, teachers, etc."eco.mont" is available by open access under CC BY-NC-ND-Licence from the Austrian Academy Press and in a printed version from Innsbruck University Press. Alpine protected areas play a key role in biodiversity conservation, but also in monitoring species and habitats. Since its first issue, eco.mont has published articles on long-term monitoring programmes in different areas of the Alps.

The current issue covers a wide range of topics concerning protected areas globally. Geographically, the articles cover protected areas in the Alps, the Himalayas, Southern Siberia and the Italian island of Sardinia. The subjects discussed include anthropogenic sounds and their influence on outdoor recreation, sacred larch trees as cultural monuments, firewood as a natural resource, sustainable regional development in a natural park and Biosphere Reserve on Sardinia, a glimpse into the EuroMAB Conference 2022 in Carynthia, Austria, the influence of historic and current land-use changes on wetland habitats, the development of the small-mammal fauna in the Swiss National Park in the last 100 years, and the conservation of endemic species in the Yarlung Zangbo river basin in Tibet.