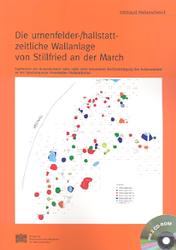 Irmtraud 

Hellerschmid


ist freiberufliche Archäologin in Krems an der Donau




Im Mittelpunkt der Arbeit steht die keramische Hinterlassenschaft aus den Grabungsjahren 1969–1989 vom "Hügelfeld", einer unmittelbar an den Westwall anschließenden Siedlungsfläche der Anlage. Besonderes Augenmerk wurde darauf gelegt, die Anzeichen des einsetzenden Kulturwandels am Übergang von der Urnenfelder- zur Hallstattzeit zu charakterisieren. Computergestützte Seriation und Vergleiche mit wichtigen zeitgleichen Siedlungen und Gräberfelder im näheren und weiteren Umfeld der Anlage in Kombination mit archäometrischen Untersuchungen an der Keramik führten zur Herausarbeitung von sechs Siedlungsphasen. Die Phasen I bis III/2 charakterisieren die urnenfelderzeitliche Entwicklung von einer relativ kleinen, kaum befestigten Ansiedlung bis hin zu einer dicht besiedelten stark befestigten burgähnlichen Anlage. Die Schlussphase der urnenfelderzeitlichen Fortifikation ist neben dem Nachweis von Metallhandwerk bereits durch hallstättische Einflüsse aus dem Westen geprägt und endet mit der gewaltsamen Zerstörung der Befestigung. Anthropologische Untersuchungen an Skelettfunden aus einer Grube am Fuße des Westwalles weisen nach, dass die Bewohner dieser Phase durch Mangelerscheinungen gezeichnet waren. Die Siedlungsphasen IV und V umschreiben den unmittelbar anschließenden hallstattzeitlichen Abschnitt der Besiedlung. Der devastierte Westwall wurde nicht wieder aufgebaut. Die Bevölkerung siedelte ohne bauliche Verteidigungsmaßnahme am Hügelfeld und ging schwerpunktmäßig dem Textilhandwerk nach. Urnenfelderzeitliche Traditionen verschwanden während der Phase IV und sind in Phase V, dem Ende der Siedlungstätigkeit, vollständig durch die kulturellen Äußerungen der Hallstattkultur überlagert.
…
The subject of this volume is the ceramic finds from the late Urnfield to late Hallstatt settlement of the Hügelfeld excavation site in the Stillfried embankment complex, which was excavated from 1969 to 1989. Particular emphasis is given to the changes in the material culture from the Urnfield to the Hallstatt periods. The findings were arranged typologically and chronologically using computer-aided seriation. Six successive settlement phases were revealed through direct comparison with relevant contemporaneous material from the nearer and further surrounding geographical area, as well as archaeometric analysis of the site's pottery, determining the area's clay composition. Phases I to III/2 span the Urnfield period settlement. The site developed, without a break, from a relatively small settlement within a stockade to a densely populated community, fortified with an embankment and ditch. The final phase of development is characterised by evidence of metallurgy and considerable Hallstatt influence from the west. Violent destruction of the fortifications abruptly ended the Urnfield period settlement. Anthropological analysis of the skeletal remains shows that the settlement's inhabitants of this period were scarred by illness and malnutrition. Settlement phases IV and V cover the Hallstatt period. In this period the settlement was not fortified. The Urnfield culture's traditions dissipated and, above all during phase V, were replaced by the material culture of the Hallstatt period. Sunken, rectangular pits that were used for both living and working (as seen by weavers' huts) are characteristic of this period.