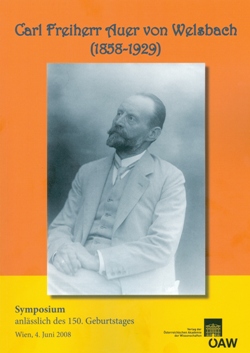 Hermann 

Hunger


ist em. Professor für Orientalistik der Universität Wien




Anlässlich des 150. Geburtstages von Carl Auer von Welsbach hielt die ÖAW am 4. Juni 2008 ein Symposium ab, bei dem das Leben und Werk dieses bedeutenden österreichischen Gelehrten und Unternehmers von verschiedenen Seiten beleuchtet wurde. Vertreter der Fachgebiete, auf denen Auer von Welsbach gearbeitet hatte, kamen ebenso zu Wort wie Angehörige seiner Familie, der Direktor des Auer-Welsbach-Museums und der jetzige Leiter der Chemischen Werke Althofen. So entstand ein vielseitiges Bild des Gefeierten, das seine Leistungen und seine Persönlichkeit dem Leser nahe bringt.
…
On June 4, 2008, the Austrian Academy of Sciences organized a symposium in memory of the 150th birthday of Carl Auer von Welsbach. Life and work of this famous Austrian scientist and businessman was discussed from many points of view. Participants included experts in physics and chemistry who presented many of the inventions and discoveries of Auer von Welsbach, but also members of his family, the director of the Auer Welsbach Museum, and the current director of the Chemische Werke Althofen which had been founded by Auer von Welsbach. In this way a multi-faceted picture of the achievements of Carl Auer von Welsbach is presented to the reader.