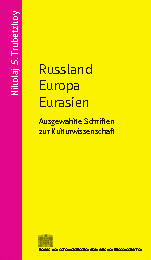 Fedor B.  

Poljakov


ist Mitarbeiter der Universität Wien und war Mitarbeiter an der Balkan-Kommission der ÖAW




Nikolaj S. Trubetzkoy (1890–1938) ist in erster Linie als Begründer der Phonologie und Vertreter des Prager Strukturalismus bekannt. Erst jüngst wurden seine kulturwissenschaftlichen Schriften wieder entdeckt. In ihnen verbindet er Gedanken zur eurasischen Geschichte und kulturellen Eigenart Russlands mit einer politischen Vision, die zur Gründung der sog. "Eurasischen Bewegung" führte. Dieser Band bietet erstmals die Möglichkeit, Trubetzkoys kulturwissenschaftlichen Nachlass in deutscher Übersetzung zu erschließen. Als Ergebnis präsentiert sich Trubetzkoys engagierte Argumentation für einen alternativen Erkenntnisweg jenseits westlich geprägter Vorstellungen. Neben Kommentar und Auswahlbibliographie enthält der Band einen Beitrag von Fedor B. Poljakov, in dem auf der Grundlage teilweise bislang unbekannter Archivmaterialien Trubetzkoys geistiger Werdegang im Spannungsfeld der totalitären Ideologien im Ost und West rekonstruiert wird.
…
Nikolaj S. Trubetzkoy (1890-1938) is best known as one of the founding fathers of phonology and as a representative of the Prague School of Structuralism. Recently, however, his writings concerning cultural studies have been rediscovered. In these writings, Trubetzkoy merges his ideas on Eurasian history and the identity of Russia in a political framework, which led to the founding of the so-called 'Eurasian Movement'. In this volume, Trubetzkoy's cultural legacy is made available to the German reading public for the first time. Trubetzkoy presents himself as a committed defender of an alternative epistemology that is not based on traditional western concepts. In addition to the annotated texts and a selective bibliography, the volume contains an article by Fedor B. Poljakov, which, based on hitherto unknown archival sources, reconstructs the development of Trubetzkoy's thinking against the background of totalitarian ideologies in East and West.